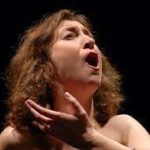 Мila Shkirtil, mezzo-soprano
She graduated from the Rimsky-Korsakov Music College in Choir Conducting and Solo Singing, and from the Rimsky-Korsakov Conservatoire of St. Petersburg in Solo Singing  (2000, with Prof. E. Perlasova). She made her debut in Vivaldi's "Gloria" in 1994 at the St. Petersburg Philharmonic Hall. Since 1997, Ms. Shkirtil was engaged in performances of the Opera and Ballet Theater of St. Petersburg Conservatoire and she made her Opera debut abroad in 2001 in "Don Carlos" production (Eboli) of the Stadttheter Klagenfurt, Austria.
Mila Shkirtil concertizes much, performing opera parts, cantatas and oratorios with orchestras of several cities of Russia and Europe. She has appeared with chamber programs at the best venues of St. Petersburg and abroad (in France, Switzerland, Germany, Belgium, Holland, Spain, Norway, Ireland, Portugal, Eastland, Italy, Brazil, the United States and Japan).
Mila Shkirtil has recorded several CDs for Delos (USA, Complete Vocal Compositions by D. Shostakovich and Complete Songs and Romances by M. Glinka) and Northern Flowers (Russia, Complete Songs and Romances by A. Glazunov, Our Lady's Rejoicing in Sorrow by D.Smirnov, vocal cycles by G. Sviridov and B. Tchaikovsky, Songs by Russian composers of the first half of the 19th century, Vocal works by V. Gavrilin and collected songs by A. Rubinstein).