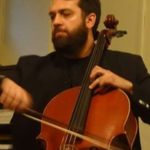 Miltiadis Cassaras took his first music lessons alongside his father. From his teenage has appeared in greek television, performed as a solist in recitals and live concerts in cities throughout Greece. He was chosen, after a competition to represent Greece to the Mediterranean Youth Orchestra. He was the first Greek cellist that was chosen receiving the highest grade, in the first 10 years of the competiotion. He represented Greece in the (ECUME), in the frame of "Thessaloniki Cultural Capital of Europe" series of events in 1997 performing as a soloist with the Orchestra of the State Conservatory of Thessaloniki.
At the same period, he obtains his diploma with the grade 'A+ unanimously' from the State Conservatoire of Thessaloniki. During his academic studies in Germany he was awarded the 1st Prize in the Cello Competition 'TECHNI' (the 'Art'), the 1st Prize in the 'Young Soloists' Competition in the city of Volos and again the 1st Prize in the Competition for Young Soloists of the State Orchestra of Athens.
After winning competitions he was awarded scholarships from the I.K.Y. (State Foundation of Scholarships), from Megaron of Music of Athens and Megaron of Music of Thessaloniki. As a soloist he has performed with the State Orchestra of Athens, State Orchestra of Thessaloniki, Orchestra Carish in Milan,Municipal Orchestra of Athens, Municipal Orchestra of Thessaloniki,
Municipal Orchestra of Larissa, Municipal Orchestra of Volos, Cello Sound Bremen, Orchestra Academia Bremen and others.
He has given concerts in Germany, France, Italy, Albania, Kosovo, F.Y.R.o.M., Morocco, Tunisia and other countries.  He has participated and recorded for the Greek and German radio. He was student of universally acknowledged and famous professors such as: N. Gutmann, X. Jankovic, A. Baillie, G. Teulieres, C. Ilea, E.Papastavro, T. Wick and others.
Miltiades Cassaras masters a very wide repertoire that expend from the early baroque era to nowadays, covering all the length of cello repertoire.
In the Greek audience he has first performed works of Piatti, Cassado, Chatshaturjan,Britten,Ginastera,Servais, Rossini,Mainardi,Kodaly and many other composers. He collaborate with renowned musicians such B.Giraud,D.Hann,S.Badivuku,B.Fidetzis and many others.