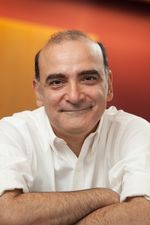 In this workshop, participants choose or are assigned works by Martin Kutnowski, in various chamber music configurations (solo piano, duo, trio, quartet, quintet…) and rehearse the works while receiving constructive feedback from the instructor. With this guidance, performers work through any musical issues that arise—from the most basic to the more complex.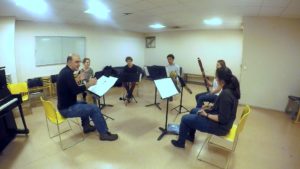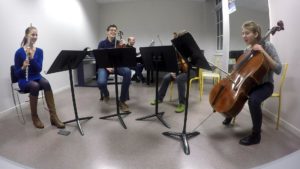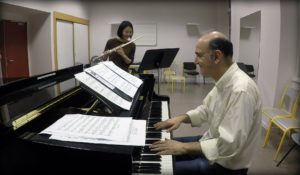 Présentation des oeuvres : Cliquez ici
Martín Kutnowski is a composer, pianist, and teaching artist. His music, fusing folk, world, and classical sources has been performed in major venues such as Carnegie Hall in New York, Wigmore Hall in London, Musée de l'Orangerie in Paris, Palau de la Música in Valencia, Izumi Hall in Osaka, IBK Hall in Seoul, Casa de la Música in Quito, and Colón Theatre in Buenos Aires. He has received many awards, from the National Endowment for the Arts of Argentina, Canada Council for the Arts, Arts New Brunswick, Fulbright, and ASCAP, among others. His music is published by Billaudot, Ricordi, and FJH, and it's recorded in AVIE (UK), Anima (France), Bridge Records (USA), and MSR (Canada). Kutnowski is Professor of Music and the Director of Fine Arts at St. Thomas University in Fredericton, Canada, and a former Fellow of the Aspen Music Festival. A music education activist as well as a composer and pianist, Kutnowski passionately advances music and arts education, worldwide. In addition to his regular teaching duties in Canada, his busy outreach as a performer, composer, and clinician has taken him to the USA, Mexico, Colombia, Ecuador, Perú, Brazil, Chile, Argentina, Taiwan, The People's Republic of China, South Korea, Japan, Estonia, Spain, Portugal, France, Germany, the Netherlands, Northern Ireland, and England. During his tours, Kutnowski usually performs chamber music or conducts local ensembles (from the piano or from the podium), in concerts that feature his music as well as compositions from the standard repertoire. His award-winning, learner-centered method to teach composition actively engages the entire group of students, blurring the difference between "lesson" and "rehearsal." His ideas about music and music education have been published in Clavier Companion, Hybrid Pedagogy, Music Theory Online, A composition as a problem, Schenker Studies, Latin American Music Review, ex tempore, Popular Music and Society, About Campus, Community College Journal, Teaching Perspectives, Across Cultures, and in opinion pieces in The Globe and Mail and The Wall Street Journal. Kutnowski is a member of the Canadian League of Composers, the Canadian Music Centre, the New Brunswick Music Teachers Association, and ASCAP.