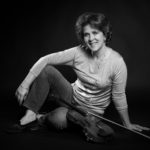 Holding a diploma of the Conservatoire National Supérieur de Musique de Lyon in the violin class of Peter Csaba, Agnès Pereira continued her studies next to soloists such as Jacques Gesthem, Elisabeth Balmas, Jacques Prat, Marie-Annick Nicolas, Nejmi Succari and spent a year at the Juilliard School in New York.
Chambrist with, among others, the cellist Alain Meunier, she appeared on stage with Miguel Angel Estrella in Buenos Aires. The French Embassy in Washington D.C. asked her to perform as a soloist as part of the concerts given at the George Washington University for a production by Odile Perceau. Under the aegis of the ambassador of the United States in France, she was invited to play a program Pergolèse-Perceau within the prestigious setting of the Saint Chapel in Paris. Several recitals would follow.
She teaches at the Conservatoire de Musique de Voiron and since 1994, she has been a permanent staff member of the Saint-Etienne Symphonic Orchestra. She also regularly plays with the Orchestra of the Lyon Opera, the Lyon National Orchestra, the Caen Orchestra, the Grenoble Instrumental Ensemble and the Orchestra of the Marseilles Opera. Invited with the pianist Laurence Garcin by the Auditorium of the Grenoble Museum to take part in the festival Midis en Musique, she drew praise for a program of Brahms and Beethoven.
Agnès Pereira plays on a Gagliano violin dating from 1763, put at her disposal by the Mainssieux Museum of Voiron.