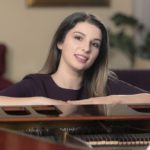 Elena Atanasovska – Ivanovska is one of the best-known Macedonian pianists, renowned for her sophisticated sound and elegant expression, as well as her energy, evident from the number of her performances both in Macedonia and abroad. She has won numerous awards in both national and international competitions and has performed in many countries around the world like USA, Italy, France, Spain, Portugal, Russia, Greece, Serbia, Bulgaria, Bosnia and Herzegovina, and Kosovo, both as a soloist and a chamber musician, in collaboration with many prominent artists (Sergej Petrov – Russia, Jan Jakub Bokun – Poland, Pierre Génisson – France, Terry Rhodes – USA, Gordana Josifova – Nedelkovska – Macedonia).
She performed at several concerts with the Macedonian Philharmonic Orchestra and on many international and domestic music festivals "Festival de Musica do Palacio da Bolsa" – Portugal, "Festival de Musica de Sant Pere de Rodes" – Spain, "Carniarmonie" – Italy, "Saraevska Zima" – Bosnia and Herzegovina, "Guarnerius, Centar lepih umetnosti Jovana Kolundzije" – Serbia, "Ohrid Summer Festival", "Skopje summer festival", "Days of Macedonian music" etc. She collaborated in many projects of F.A.M.E.'S during recording sessions of movies music. By invitation from music school "M. Balakirjev" in Moscow, she participated as a member of the jury of the international competition for Slavic music in Moscow, Russia.
From her several recordings, the latest one is a CD published by DUX – Poland with music from the Swedish royal dynasty Bernadotte. She graduated with honors from both her postgraduate and doctoral studies in the class of eminent Russian professor Boris Romanov, at the Faculty of Music in Skopje, where she is currently employed as Ph.D. professor.